After far too long, it was actually cool enough to open windows last night. I would lie and say that the wine tasting wasn't a steam bath, but it could have been much worse. There was plenty of shade and TBG even found a nice little table well away from the bands (there were five). There was over eighty wineries there and easily fifty restaurants. By seven (we started at five), I was stuffed and had had everything from watermelon salad to tortellini in a seven cheese sauce to sushi to pulled pork burritos to pizza (six kinds) to... well, you get the idea. Every restaurant seemed to be represented. It was fabulous.

The entrance to the park and one of the water fountains. There was great whimsy everywhere you looked. Best of all, there were misters that helped to keep us cool.




TBG and Barb V relaxing and chatting. Off to the left is where the silent auction was located. I shudder to think of what I might have won. Guess I'll know soon enough. We left with a half hour to go. I'm hoping someone came along behind me and bid some of those items up.




The best part was the carousel. Barb V and I rode it far too much. Do you know you can get queasy after have lots of food and wine and then riding a carousel? I didn't, but I do now. :P My pony was green, then pink and finally the zebra! (This was lifted from the Lodi News Sentinel)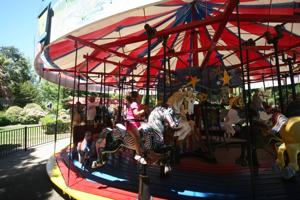 I would seriously do this again and the best part - it has finally started to cool off.